Build and Occupy in Under 16 Months
Few decisions will have the positive long-term effects to your business' success as a new building and its location.
---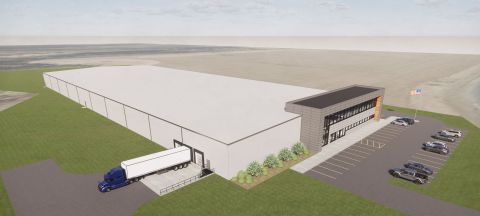 Previously there were two choices:
Either the long, laborious process to build your facility from the ground up, or
Locate in an existing building, forcing you to adapt to a less than perfect building. 
Now there is a third option, the Menomonie Wisconsin Virtual Speculative Building.
The advantage of a Virtual Speculative Building over an existing building is the adaptability afforded by a virtual design. With a Virtual Speculative Building, the preliminary design/study has been developed for the site to assure that the proposed building size can be accommodated and is ready to jump into the final design process. Through this approach, we have developed preliminary designs that will fit the site, which can be cost-effectively custom-tailored to your process without the added burden of demolishing and/or renovating an existing structure.  
---
Location
Located on Interstate 94 at exit 45, the main corridor connecting the Twin Cities and Chicago metropolitan areas, Menomonie Wisconsin is the premier location for your new or expanding business.
The State and Xcel Energy Certified site offers easy access to major markets via Interstate 94 and State Highway 29, both 4-lane divided highways.
Menomonie boasts easy access to an extensive international transportation network including air transportation. The City offers a well-educated work force supported by three State of Wisconsin Universities & two Wisconsin Technical Colleges.
Easy access to major markets via Interstate I-94 and US Highway 29 both 4-lane divided highways.
| Transportation Distances |   |
| --- | --- |
| Minneapolis/St. Paul | 71 Miles |
| Green Bay | 210 Miles |
| Madison | 200 Miles |
| Milwaukee | 268 Miles |
| Chicago | 340 Miles |
Greater Menomonie Overview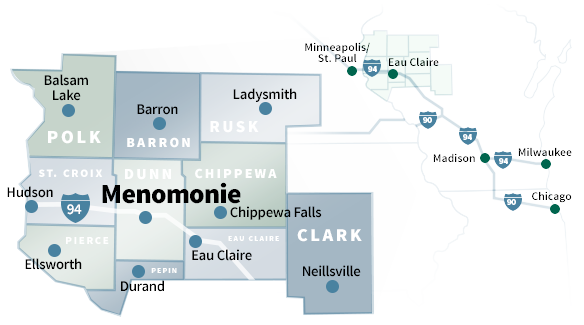 ---
Site and Building Features
Site Features
Close, easy access to Wisconsin Interstate 94 at exit 45
Initial 95,000 sq. ft. building on 11.77+/- acre site with ability to expand the size of the warehouse/production area from 95,000 sq. ft to 175,000 sq. ft.
Private & public utilities including broadband are "curbside"
Regional storm water retention pond is adjacent to the site removing the need for any on-site stormwater retention
Preliminary plans have been drafted 
Building Features
Pre-engineered structure for the warehouse/production area and conventional construction for office space
Attractive glass & metal panels
31 stall parking lot
3 loading docks
2 overhead doors at grade
28 ft. clear height
25 ft. column spacing
6" concrete floors
Full fire suppression
95,000 sq. ft. production space expandable to 175,000 sq. ft.
6500 sq. ft. main floor office space
5200 sq. ft. second floor office space
Each office area features production-overlooking conference rooms, cubicle space, IT/mechanical rooms, breakrooms and access to overlooking area
Speculative Building Overview
---
---
Timeline to Construct
From Plan Approval to Move In, In Sixteen Months:
Our team is eager to join with your team in evaluating this Virtual Speculative Building for your company's expansion and relocation needs.
We have worked through a large portion of the project to expedite its delivery. In completing the planning, land acquisition and preliminary design, the schedule for the project has been significantly reduced - allowing you to occupy this building in approximately 16 months.
Because this is a virtual speculative building it can be easily and quickly custom tailored to meet your needs.
---
Deal Structure
The goal of the Greater Menomonie Development Corporation and the City of Menomonie is to work with your business to explore building financing options that will work best for you. Some examples include:
Lease to own
Conventional financing where you own your own building
Long term lease
In some situations, the community would be open to providing GAP financing for a qualified business in order to reduce the upfront equity requirements.
---
Contact:
Eric Atkinson
City Administrator City of Menomonie
1 (715) 232-2221 ext. 1001
atkinsone@menomonie-wi.gov